Tesla is bursting with records
The electric car pioneer Tesla has achieved its third record profit in a row despite the global shortage of chips. With 1.6 billion dollars, the US company earned almost five times more than a year earlier in the third quarter. Sales grew to $ 13.8 billion, 57 percent above the same period last year.
Tesla announced a delivery record earlier this month. The US group recorded an increase of 73 percent compared to the same quarter of the previous year. For Tesla, it was the sixth quarter of growth.
The e-car manufacturer recently asked its employees to perform at their best. Employees should make an effort to deal with production problems early in the third quarter.
Meanwhile, the group is hoping for the final approval of its new factory in Brandenburg by the end of the year. But Brandenburg is now repeating the hearing of critics of the Tesla factory under construction in Grünheide near Berlin. The new online consultation of more than 800 objections will take place from November 2nd to November 22nd. Elon Musk's electric car group wanted to start production in Brandenburg as early as July, but delays in the approval process changed the schedule.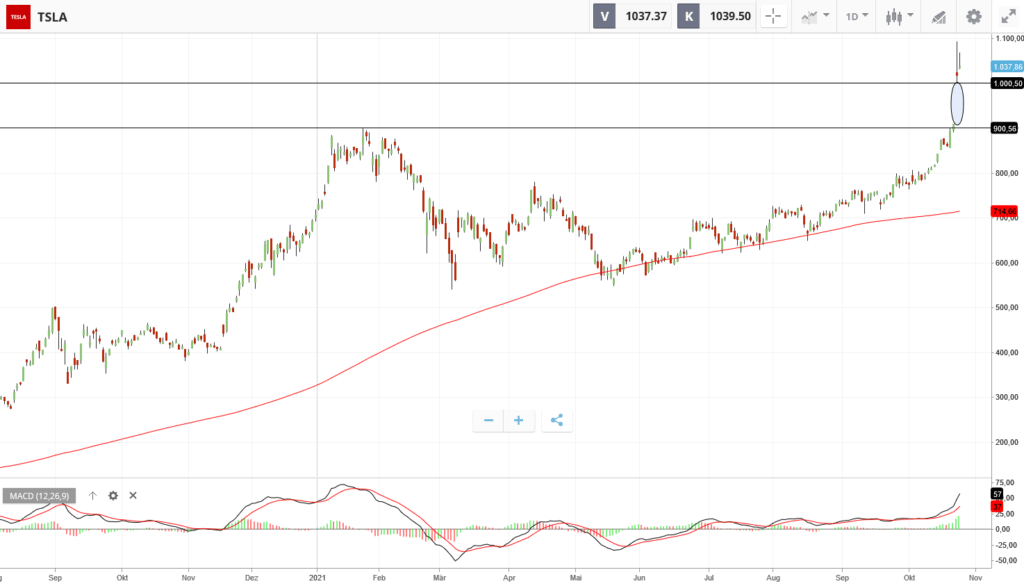 Tesla shares at record high
The stock of Tesla broke up with a gap (see ellipse) and reached a new record high at just under 1,100 dollars. The MACD (momentum) is also pointing up and supporting the breakout. However, the breakout line at $ 1,000 is about to be retested (from above). This test should be decisive for the further course development.
You can participate in the success of Tesla with one. Brave investors can get involved with one leveraged.
Buying shares at eToro – it's that easy.
The eToro platform offers investors from around the world a unique opportunity to add stocks to their portfolio. Since the beginning of 2018, every BUY order without leverage leads to the purchase of the underlying asset through eToro; it will then be kept in the name of the customer. This also applies in cases where you invest in a CopyPortfolio or copy a trader: If the copied trader buys stocks, you automatically own part of his stock portfolio.
Trading stocks via eToro, these are the advantages:
Trust – your shares are held with an EU regulated company under your name.
Insurance – Your deposit and associated assets are insured in accordance with the CySEC Terms of Use.
Dividends – Should the company pay a dividend, investors will receive the respective dividend credited.
No custody fees – Buying stocks on eToro means you don't pay custody, order fees and commissions. When buying and selling a share, there is a bid-ask spread.
Easy to use – your depot is always available online and via apps.
Diversification – Create a portfolio of stocks, cryptocurrencies, commodities, and more.
About eToro:
For over a decade, eToro has been a pioneer in the global fintech revolution. It is the world's leading network for social trading, with millions of registered users and a range of innovative tools for trading and investment. Since the beginning of 2018, eToro has made it possible to buy and sell shares.